This link is ONLY for 1 x Taroma XL Titanium Housing. We recommend purchasing full kits, unless you are well versed in sourcing/ setting up your own Controller and Coil. We are not responsible for any issues arising from mix/match of parts.
Taroma XL uses a 30mm, Clockwise, 5 wrap Heater Coil to transform Taroma into the Thor's Hammer of the aromatherapy world! This is definitely not for the faint hearted.
Taroma XL uses a little more than 500pcs of 3mm Rubies in its Gemstone Chamber. It has possibly the largest bowl and gemstone chamber capacity, out of any model out there. Perfect for individual, group sessions or special events. As always, our Taroma and Taroma XL housing are made out of GR2 Titanium.
Taroma XL offers more than 3 times the surface area and thermal mass compared to a regular Taroma heater. This makes Taroma XL hit even harder, at similar or larger loads. Flavor is significantly better than any other Titanium based housing we've tried. Needless to say, Taroma XL is built to last!
Taroma XL has a raised step in its design, to better stabilize and to provide better coil contact. As such, it is only compatible with 30mm, 5 wraps, clockwise coils.
The built in Gemstone Chamber acts as airflow control, and for better heat retention/recovery due to increased total mass. You can add or mix Aroma Pearls and/or pillars of different color and sizes, for endless combinations and possibilities. We only offer 3mm Ruby Aroma Pearls at the moment.
Taroma XL is not designed to be used with an empty Gemstone Chamber. Do not attempt to overfill the Gemstone Chamber.
Do not modify or use modified/ incompatible coils on Taroma XL. For reference, our Coil Pinout is:
Coil (Male 5 pin XLR connector) PIN 1 = TC-, PIN 2 = TC+, PIN 3 = GND, PIN 4 = AC-, PIN 5 = AC+
Note: When resting the heater for a long time, the Taroma XL Stand will feel like touching a bowl of hot soup. However, it is safe to touch for a few seconds.
NOTE: We recommend supporting the Taroma XL joint with some basket screens, or just rest it sideways on our porcelain stands. The extreme pressure of a Taroma XL joint could potentially break the inner cup over time. Please use with caution.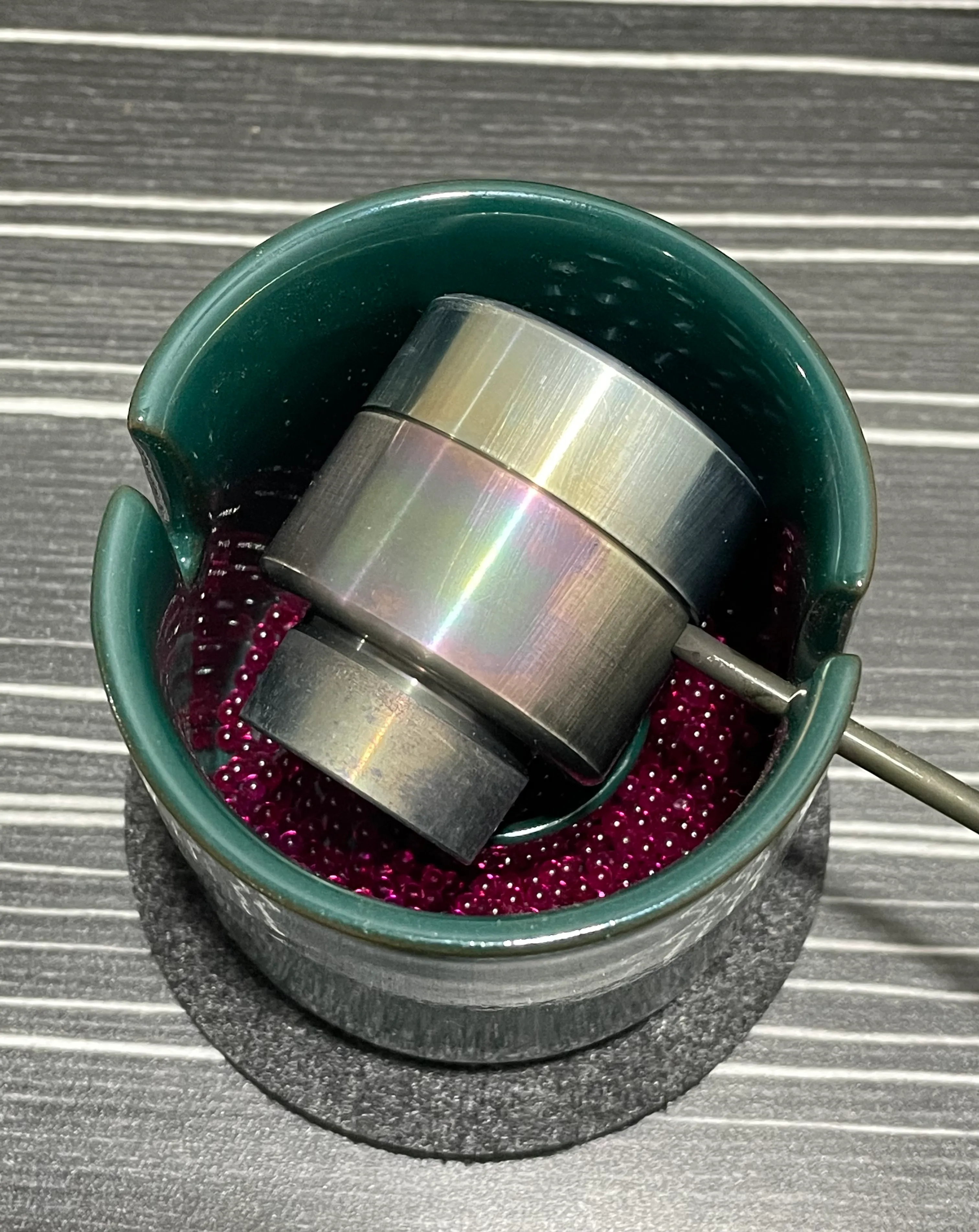 The applications for Taroma XL are endless. Anyone who requires small scale, ultra clean convection heating, at precise temperatures will benefit from the Taroma XL. Due to its standard laboratory glass sizes, modifying the Taroma XL to suit your needs is made very easy. There are truly no fixed way to use the Taroma XL.
This link is ONLY for 1 x Taroma XL Titanium Housing
No warranties or returns